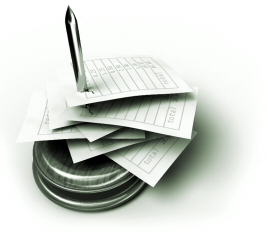 Most people feel that book-keeping and accountancy is the same thing. However, they are very different! Book-keeping is where your everyday income and expenditure is recorded and accountancy is the preparation of your accounts, usually once a year.
Every business is advised to keep accurate and up-to-date books. It can provide important information to the business owner such as how much is owed to the business by customers and how much the business owes to suppliers.
However, many people find completing their records to be extremely time consuming and tedious. Too often the task is put back to the bottom of the pile.
Perhaps not something to admit to at parties, but I actually enjoy doing book-keeping! I find it very satisfying to take a pile of receipts and invoices and work through them to finish up with an orderly, fully referenced pile ready for filing.
So, why not let me do your book-keeping, allowing you to get on with running your business?
Tailored Book-keeping Services
I provide a tailored book-keeping service to suit your needs. Every client is different and I am 100% flexible. For example, I offer a Mobile Accountant service and am able to complete work on your premises or at my office, reporting back to you on a monthly, quarterly or yearly basis.
It may be that you have a system in house that allows you to record receipts and payments and you simply need help with reconciling the bank statements. Or alternatively, you may have nothing and prefer to bring your records up to date once a week or month.
Any solution I offer will also take account of your resources and finances. Not all book-keeping needs to be completed using expensive complicated accounting software. Microsoft Excel spreadsheets can often be designed to make life simpler and are much more cost effective.

My Approach
I am an ACCA qualified chartered accountant who offers a personal accounting practice with an emphasis on flexibility, including a Mobile Accountant service. To read about me and my approach to accountancy, please take a look at the About Me page.
Testimonials from a number of my clients are also available.
Contact Me
To discuss your accounting needs, please get in touch using one of the following:
Tel:

01524 784351

Mob:

07525 653036

Email:

enquiries@accounting-fionawills.co.uk

On-line:

Enquiry Form
I look forward to hearing from you.


Throughout Lancashire and Cumbria
Based in Carnforth, close to the A6 and M6 motorway, Fiona Wills Accountancy Services Ltd is well placed to offer Mobile Accountant services throughout much of Lancashire and Cumbria.
I offer accounting services, including book-keeping services to Kendal, Carnforth, Lancaster, Morecambe, Heysham, Garstang, Kirkby Lonsdale, Windemere, Ulverston, Barrow, Knott End, Blackburn, Preston, Blackpool, Cleveleys, Lytham, Fleetwood, Leyland, Chorley and beyond.
Accountants Carnforth / Payroll Services Carnforth / Bookkeeping Carnforth / Accounting Services Cumbria / Accountants Lancaster / Payroll Services Lancaster / Bookkeeping Lancaster / Accounting Services Lancashire / Accountants Garstang / Payroll Services Garstang / Bookkeeping Garstang